Feel the rhythm vol.2 | Hip-hop fest | Lviv | Breakdance battles
About event
Feel the rhythm це найбільше змагання з різних галузей хіп-хоп культури у Львові. На ньому будуть присутні учасники і гості з усіх куточків України. Приєднуйся до цієї крутезної події! На фестивалі будуть проводитись батли з брейкінгу та бітбоксу.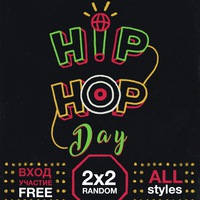 Hip-Hop Day 4
25 November 1714:00
Nordic Break League 2017
25 November 1719:00
World of Dance London Qualifier 2017
26 November 1714:00
Street Groove Jam Ed. IV
01 December 1708:00
Straight End Battles Workshops 2k17
01 December 1716:00
HIP HOP & HOUSE | Kapela & Miracle
01 December 1719:00
ICEE Hip Hop workshop Atelye54 (PD)
01 December 1721:00
Funky flava battle
02 December 1709:00
Straight End Battles 2k17
02 December 1711:00
NO LIMIT BATTLE
02 December 1712:30
Best Flavor 2017
02 December 1715:30
ICEE HIp Hop Workshops!
02 December 1716:00
View more events
Danceproject.info - a non-profit product, and it is thanks to the advertising we support and develop our services.

We would be grateful if you disable AdBlock on our website.

Thank you.