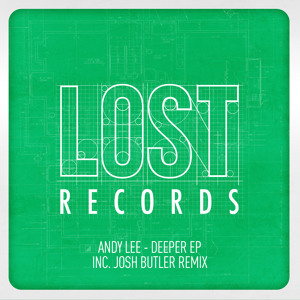 Andy Lee – Deeper EP
0
about music
Out Now :-
http://www.beatport.com/release/deeper-ep/1330318
Artist: Andy Lee
Title: Deeper EP
Label: Lost Records
Release Number: LR007
Format: Digital
Distribution: MN2S Distribution (Digital)
Release Date: 14.7.2014
File Under: Deep House


Tracks:
1. Deeper
2. Deeper (Josh Butler Remix)
3. Hex
For Lost Records latest release we headed up North for a bumper package from the forthright of County Durham's clubland. Andy Lee has been on our radar for a while and from his production skills in a previous life we knew his soulful roots would work well on a classic deep dancefloor vibe for Lost. The lead track 'Deeper' is a relentless drum arrangement sitting nicely with a bass groove. The yelping vocal sample accommodates the driving beats creating a dark underground bouncing Balearic record.
On the remix, Josh Butler steps up with his characteristic haunting bassline rearrangement and a much higher tempo synth collection giving a more jackin' feel to the original. The infrequent vocal stabs topped with a killer breakdown create an overwhelming rhythm throughout.
Andy's B-side of this EP 'Hex' is based on a funky synth arrangement. The slowly filtered vocal hook and the step class style drums matched with a distant breakdown showcase this stellar dancefloor sound.
DJ Support
MK "Nice"
German Brigante " 3 Old Schhol Bombs!!"
MANIK " Solid release from a label I've really been digging"
Russ Yallop " Dig Hex"
Joyce Muniz "Dope EP"
Tapesh "Remix for me"
Illyus " Lost are really delivering at the moment. inform label"
Barrientos ""absolutely wicked EP! loving all the tracks, think Hex is my fav. Props to
Josh for a big remix too. all of these!
The Mekanism " Thanks for the music"
Timo Garcia ""really like the Butler remix thanks gonna drop this on my Nolan guest
mix for Digweed"
Mash (Mixmag) " "Really into this. Liking the original and the mix from JB. I will be
playing!!"
Origins Sound "Another quality release from Lost Records. Great stuff."
James Silk "Hex & Josh's remix. Big EP !" have dancefloor appeal, will play out Hex on
my radio show this coming sunday FULL SUPPORT YO!""
Martin Ikin "Solid 3 tracker, Josh Butler remix is the fav for me on this one. Support!"
Forrest ""Josh Butler Remix, I will play ­F."
Raffa FL ""Deeper and Hex for me!"
Rick Maia " Feeling the whole EP, this is great"
Waifs n Strays "will be playing this for sure…Deeper is the one for me."
Mario Ochoa " Josh's rmx is my fav thx"
Origins Sound "vibes on deeper and classic josh butler doing a job on the remix."
Copy Paste Soul " Nice mix from Josh here chaps"
Alexis Raphael " good rolling beats nice one guys"
Dominic Martin " Solid EP, all 3 tracks playable , nice deep techy stuff"
Monte " Blind buy , great as always! Thx"
Poupon " Nice package! loving all 3 tracks"
Rekreation " Good all round E.P. Josh on form as ever"
Adam Saville (DJ MAG) "YES"
View more music
Danceproject.info - a non-profit product, and it is thanks to the advertising we support and develop our services.

We would be grateful if you disable AdBlock on our website.

Thank you.