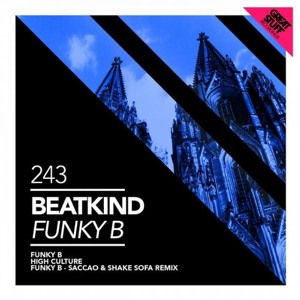 Beatkind – Funky B (Saccao & Shake Sofa Remix)
0
about music
Cologne's dynamic duo Beatkind make their long awaited return to Great Stuff with their second block buster release "Funky B". They resume where they left off, with last years "Daily Life" EP.
A moody, ruff bassline drills it self through a thumping bass drum & percussion ensemble. Cleverly layered on top sits the pitched down male vocal, adding the extra craziness. An armory of weird synth fills and melodies gets fired onto the dance floor at the same time.
Sam Freeze and Mo Digital's second track "High Culture" features a more abstract atmosphere and sleek Rasta Man vocals that seem to attack from all sides of the stereo spectrum. Playful melodies and break downs make this a very intense slow burner.
The extremely talented up and comers Saccao & Shake Sofa are on remix duties. They kept the original feel and drive of "Funky B" in tact, while transforming the sub frequencies to go down a slightly deeper route. The re-worked vocals and effects interchange incredibly well with the new arrangement of sounds.
View more music
Danceproject.info - a non-profit product, and it is thanks to the advertising we support and develop our services.

We would be grateful if you disable AdBlock on our website.

Thank you.