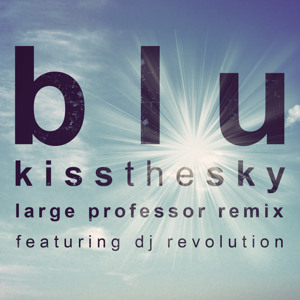 Blu (feat. DJ Revolution) – "Kiss the Sky" (Large Professor Remix)
2
about music
NOISEY Premiere: http://bit.ly/1BjRXRR
Large Professor: Producer. Mentor. Influencer. The rapper/producer extraordinaire deserves to be on Hip Hop's Mount Rushmore, due to his impact on the culture. From mentoring a young and upcoming Nas, to producing Cormega's 2014 gem, 'Mega Philosophy,' Xtra P isn't quitting anytime soon. Creating a bouncy, sinister rendition to Blu's 2012 released single "Kiss the Sky," originally produced by M-Phazes, Pro manages to transform Blu's bars into a destructive force of nature. Whereas the original had the Australian beat smith providing a more inspirational and soulful vibe, Xtra P's version flips the script entirely by showcasing just how deadly he is with an MPC, while DJ Revolution shreds a classic Method Man quotable into oblivion. Large Professor's remix of "Kiss The Sky" will be featured on Coalmine Records' forthcoming remix compilation, 'Remineded: A Collection of Old & New Remixes,' which is now available for pre-order via iTunes, for its official January 20th release date.
Please note that original and remix of "Kiss the Sky" will be available as a limited edition 7-inch 45 through Fat Beats, just in time for next week's release date, and will include a drop card for a free download of 'Remineded.'
7-inch Pre-Order (Fat Beats): http://bit.ly/1KGCYFQ
Original Version: https://soundcloud.com/diamondmedia360/blu-feat-mela-machinko-kiss
Buy-Links:
• iTunes ('Remineded' Pre-Order): http://bit.ly/11ZC58A
• "Kiss the Sky" (7-inch Vinyl):
Tracklist:
01. Heltah Skeltah (feat. DJ Revolution) – "Midnight Madness" (Audible Doctor Remix)
02. Skyzoo – "Strung Out" (Small Professor Remix)
03. El Da Sensei (feat. MeLa Machinko) – "2 The Death" (M-Phazes Remix)
04. Supernatural – "Altitude" (GMJ Remix)
05. Blu (feat. MeLa Machinko) – "Kiss the Sky" (Large Professor Remix)
06. Royce da 5'9″, Skillz & Diamond D – "One for the Money" (Mananz Remix)
07. Big Noyd, Large Professor & Kool G Rap – "Naturally Born" (Cookin' Soul Remix)
08. Blu & Nottz (feat. Nitty Scott, MC) – "Boyz II Men" (Diamond D Remix)
09. Sean Price, Billy Danze & Maffew Ragazino – "Land of the Crooks" (Divided Souls Ent. & DJ Pain 1 Remix)
10. Guilty Simpson & Small Professor – "Go" (Zilla Rocca Remix)
Coalmine Records Online:
• Instagram: instagram.com/coalminerecords
• Twitter: twitter.com/coalminerecords
• Facebook: www.facebook.com/CoalmineRecords
• Website: coalminerecords.diamondmedia360.com
Twitter:
• Blu: https://twitter.com/herfavcolor
• Large Pro: https://twitter.com/plargepro
• DJ Revolution: https://twitter.com/djrevolution
View more music
Danceproject.info - a non-profit product, and it is thanks to the advertising we support and develop our services.

We would be grateful if you disable AdBlock on our website.

Thank you.