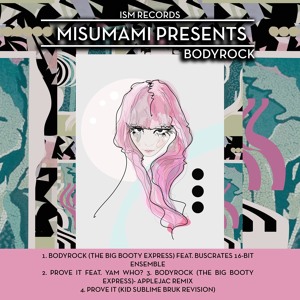 Misumami – Bodyrock Ft. Buscrates 16 Bit Ensemble (MIMS PREMIERE)
1
about music
Misumami 'The Bodyrock Sessions'
Bodyrock (produced by Buscrated 16-Bit Ensemble)
Worldwide premier on Music is My Sanctuary.
Gliding the boundaries of contemporary soul music and underground beats culture, Misumami represents a splash in a pond of the worldwide soul music scene. Effortless and fluid vibrations pushed from the heart and mind, designed to be felt by the body. The brainchild of singer,producer and musician Charli James, with background input from well established indie producer Inkswel- Misumami represents a new rawness in the over saturated internet age where anybody can create. Something truly unique and universal. One part Erykah, one part Little Dragon, a touch of Chemise and a nod to Evelyn Champagne King. The Body Rock sessions is her first side project moving towards more disco and 80s funk throwback sounds, collaborating with the tremendous Yamwho and new age modern funk hero Buscrates. The release is backed by a soulful house re-rub from Atla nta's DJ Applejac and a throwback bruk mix from Amsterdam legend Kid Sublime- all polished off with next level art from Lisa Stannard.
View more music
Danceproject.info - a non-profit product, and it is thanks to the advertising we support and develop our services.

We would be grateful if you disable AdBlock on our website.

Thank you.