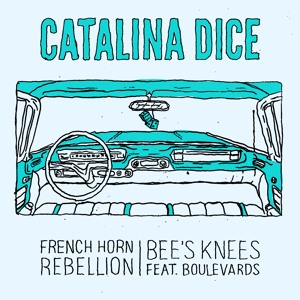 French Horn Rebellion & Bee's Knees – Catalina Dice feat. Boulevards
1
about music
Summer's ending, but it doesn't mean we're stopping the party. Our new track with Bee's Knees and Boulevards is out and ready to make you sizzle.
Premiered via This Song Is Sick ( @nickraymondg ) http://thissongissick.com/post/french-horn-rebellion-catalina-dice
Spotify: https://open.spotify.com/album/1OW8t1mjX3NwEF36xasibf
iTunes: https://itunes.apple.com/us/album/presentation-single/id1267756302
▼ Follow French Horn Rebellion
Facebook: www.facebook.com/frenchhornrebellion
Soundcloud: @french-horn-rebellion
Twitter: twitter.com/frenchhornrebel
Youtube: youtube.com/frenchhornrebellion
▼ Follow Bee's Knees:
Facebook – facebook.com/beeskneesmusic
Instagram – instagram.com/beeskneesmusic
Twitter – twitter.com/beeskneesmusic
SoundCloud – @beeskneesmusic
YouTube – youtube.com/user/beeskneesmusic
▼ Follow Boulevards
Facebook – facebook.com/imboulevards
Instagram – instagram.com/imboulevards
Twitter – twitter.com/iamboulevards
SoundCloud – @boulevards_official
YouTube – www.youtube.com/channel/UCq-bSGZoPJKGGcbRVP2B4Eg
View more music
Danceproject.info - a non-profit product, and it is thanks to the advertising we support and develop our services.

We would be grateful if you disable AdBlock on our website.

Thank you.