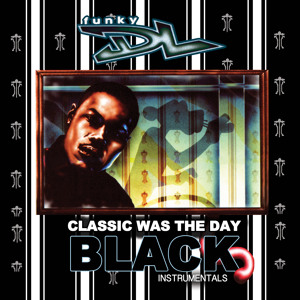 Funky DL – Bar Summery (Black Instrumental)
0
about music
Funky DL has become well known for his flood of instrumental albums. From the extremely popular "Nights in Nippon Jazzstrumentals" to "The Lawshank Redemption Instrumentals" and not forgetting the Nas ode – "Jazzmatic Jazzstrumentals", Funky DL brings hip-hop lovers beat upon – boom-bap – beat… and any notable hip-hop blogger can confirm this…
The jazz-fueled sentiments continue from the "day one" starting block of 2014 with "Classic Was The Day – The Black Instrumentals"…
That's right! Funky DL went into the lab to remake (from scratch) all of the instrumentals from his debut 1997 album Classic Was The Day. Most of the original instrumental masters were destroyed back in 1997, so there has never been an instrumental version of the complete album until now…
This common request from lovers of the original album provided DL with the perfect opportunity to flip the breaks again, but with additional treats on the beats, where he adds extra elements of the original breaks on many of the tracks to bring a somewhat new twist to the sonics.
Bearing in mind, DL did not have any of the beats stored anywhere.. not on zip discs, not on floppy discs, or any computer (as he made the album before he himself had purchased any of his own studio equipment), it is truly remarkable that these instrumentals were all remade completely from the original sources of vinyl!
Any artist who releases a debut album is blessed with the opportunity to express – either musically or lyrically – every choice and special element of what they have been waiting to deliver through their music. Classic Was The Day Black exemplifies the magical jazz breaks, hand picked over a number of years to constitute this colorful album of beats for Funky DL's first effort. These are the collection of breaks he just couldn't wait to use!
So after 17 years, low and behold…. The Instrumentals that are… Classic Was The Day Black…
View more music
Danceproject.info - a non-profit product, and it is thanks to the advertising we support and develop our services.

We would be grateful if you disable AdBlock on our website.

Thank you.