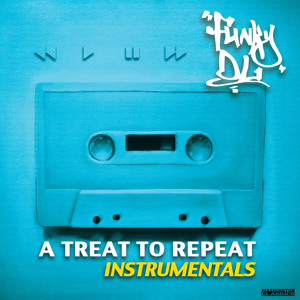 Funky DL – Yeah (Instrumental)
0
about music
Less than a week after finishing a 3 year stint as a law student (degree level), Funky DL hits the studio at FULL-FORCE to bring "A Treat To Repeat" – the third installment of his beat tape instrumental series, which started with the instrumental albums "Too Hard To Beat" followed by "From Sweet To Street".
As usual, the instrumentals on this album aim to please, with a mixture of some smooth and sophisticated grooves (see "Blackberries", "The Full One" and "Thinking Again"), and some rugged and raw head-bangers (in the form of "All Grown Up", "The Big Bad Wolf Crackles" and "D-illest")
This 19-track set showcases the finesse Funky DL brings to the table in his production skills and only goes to further cement an already pristine reputation as one of hip-hops finest producers to date.
DL admits he himself did not see the complete value in dropping instrumental albums until a few years ago, but it would seem that now these albums are an integral part of his release schedule, as so many fans flock to hear these grooves for a multitude of reasons.
So whether it's just to chill, study to, or to write some fresh rhymes based on the musical inspiration, feel free to crank up the volume over the next hour or so, and let this instrumental album take you wherever you wish to go!
View more music
Danceproject.info - a non-profit product, and it is thanks to the advertising we support and develop our services.

We would be grateful if you disable AdBlock on our website.

Thank you.