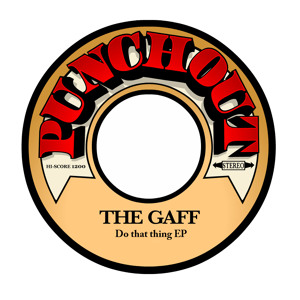 The Gaff – Under The Sun
0
about music
Punchout! busts forth with a brand new 7" single from The Gaff,renowned Canadian crate-digger turned international beat-wrangler. As
a walking encyclopedia of all things funky, The Gaff's record
collection and knowledge has awed other like-minded rhythm purveyors
such as DJ Nu-Mark, Cosmo Baker, and Fort Knox Five. With access to
such a deep inventory of musical history it's no wonder that The
Gaff's DJ sets and production work have also inspired much acclaim
from his fans and contemporaries. The Gaff consistently offers a party
rockin' collage of snippets, samples, and drum breaks from dusty vinyl
sources, splicing the familiar into something new and always ready to
hype the dance floor. This latest single is certainly no exception,
with two rousing cuts filled with sounds so hot they just might ignite
the more flammable turntables. "Do That Thing" pops and locks through
a lethal groove, with classic phrases and samples bursting out so fast
it'll make the listener's head spin quicker than the record's 45 RPMs.
There's also a beats-only version here to entice the DJ to come
prepared with doubles. Meanwhile, on the B-side, "Under The Sun" flips
and reconstructs The Mothership into a filtered, funky stomper that
will launch any worthy block party into the upper reaches of the
atmosphere. Grab hold tightly … The Gaff represents!
View more music
Danceproject.info - a non-profit product, and it is thanks to the advertising we support and develop our services.

We would be grateful if you disable AdBlock on our website.

Thank you.