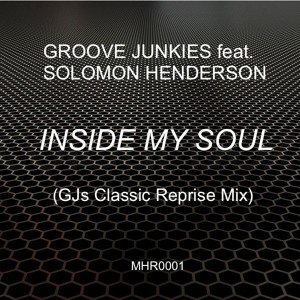 Groove Junkies ft. Solomon Henderson "Inside My Soul" (Classic Reprise Mix) FREE DOWNLOAD
1
about music
The debut release for MoreHouse Records in June 2002 featuring the amazing vocals of Solomon Henderson, caused quite a stir in the dance community. It was supported by the likes of the late, great Frankie Knuckles, Tony Humphries, "Little" Louie Vega, Brian Tappert & Marques Wyatt to name a few.
Groove Junkies 'Classic Reprise Mix' has been remastered and is def one for the soulful headz…a perfect set starter, ender or in betweeneer (if you're the adventurous type 🙂 The 'Reprise' strips things down on the first half of the song and crescendos to the full 'Classic Mix' after the 2nd chorus. It's also a great song to augment your music library. A tune with tons of heart, oozing with soul, quality and class!
For additional mixes click these links:
Original Mixes: http://www.traxsource.com/title/212/inside-my-soul
2010 Remix: http://www.traxsource.com/track/370780/inside-my-soul-gjs-philly-style-re-work
Written, Arranged, and Produced by Evan Landes
Horns by Chris Labarbera
Keys by Marques Fugate
P & C 2002 MoreHouse Records Inc.
Published by A Slice Of Evan Music BMI
LIKE US ON FACEBOOK: www.facebook.com/MoreHouseRecords
FOLLOW US ON INSTAGRAM: instagram.com/morehouserecords
FOLLOW US ON TWITTER: twitter.com/mohorecords
WEBSITE: www.morehouserecords.com/
MOHO MUSIC: www.traxsource.com/label/21/morehouse
'LIKE' & 'FOLLOW' GROOVE JUNKIES' EVAN LANDES on FACEBOOK
www.facebook.com/groovejunkies
www.facebook.com/evan.landes
'FOLLOW' GROOVE JUNKIES ON INSTAGRAM: instagram.com/groovejunkies
GENERAL & BOOKING INQUIRIES:
Maria Landes
mhr@morehouserecords.com
LICENSING CONTACT:
Carrie Hustler
Miller Music Management
carrie@m-music-m.com
44 (0)7789 273 432 UK
View more music
Danceproject.info - a non-profit product, and it is thanks to the advertising we support and develop our services.

We would be grateful if you disable AdBlock on our website.

Thank you.