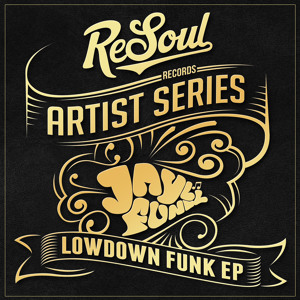 Jayl Funk – Rising
0
about music
OUT NOW: http://www.junodownload.com/products/jayl-funk-lowdown-funk-ep/2331741-02/—————————————————————–
ReSoul Presents: JAYL FUNK – The Lowdown Funk EP
1) Lowdown Funk – 117bpm
2) Rising – 110bpm
Well what can we say, the FUNK is strong right now! And who better to deliver 2 fresh cuts than one of our favourite funk technicians, Germany's JAYL FUNK!
We've always been impressed by Jayl's dedication to reviving dusty old funk grooves and we couldn't be happier with what he's turned in for his ReSoul debut. He's bringing it back on this one, yet certainly still guaranteed to rock any dance floor!
ALREADY GETTING SUPPORT FROM THE LIKES OF:
The Funk Hunters, Slynk, Funkanomics, Beatvandals, The Captain, Basement Freaks, Badboe, Trotter, Timothy Wisdom, CMC&Silenta, Dub Pistols, Cayetano, JFB, Slim Goodgroove, Qdup Foundation, Danny Massure, Wood'n'Soo, Omegaman, Jroc, Funk Weapons, Funk Ferret, SkiiTour, Busta, Lewd Behavior, and many many more!
RSR009 – Release Date: November 18th, 2013
OUT NOW: http://www.junodownload.com/products/jayl-funk-lowdown-funk-ep/2331741-02/
—————————————————————–
SELECT DJ SUPPORT & FEEDBACK:
"Jayl is getting funkier and funkier every damn day!"
– SLYNK
"Hot Hot Hot! Jayl Funk smashed it on these two!"
– THE FUNK HUNTERS
"Absolutely Top Shelf Funk on both tracks. ReSoul for President!"
– TIMOTHY WISDOM
"This is Jailed-funky! My fav is Rising. Badass track! Bigups to ReSoul for putting it out!"
– THE CAPTAIN
"Our homie Jayl Funk always delivers, great release!!"
– FUNKANOMICS
"Nice slabs of funk!"
– DUB PISTOLS
"Defo Jayl funk finest work to date, loving the production!!"
– FUZZBOX INC
"Damn, fell in love with Rising within the first 2 bars!!! Huge"
– LEWD BEHAVIOR
"It's known that Jayl Funk is one of the best out there. And he did it again. Big ups to ReSoul as well for this release."
– CAYETANO
"Nice shot! Love the EP, Big and Funky!"
– CMC & SILENTA
"Thanks for this Guys…Would defo play this in my Beatvandals/Bombstrikes Sound System Shows… Great production and Big fan of what you do!"
– UTAH SAINTS
"Been a long time Jayl Funk fan, so I was so excited to see a release from him on ReSoul. Great funky vibey tunes. Going into the crate. Qdup"
– QDUP FOUNDATION
"Dope Funk!"
– DANNY MASSURE
"Great to see Jayl Funk on Resoul – super funky phat beats!"
– OMEGAMAN
"Jayl always delivers the real funk! Cool to see ReSoul pushing the non-ghetto sound too. Strong EP – will be playing both tunes for sure!"
– BADBOE
"Sweet release! Totally support it!"
– TROTTER
—————————————————————–
OUT NOW: http://www.junodownload.com/products/jayl-funk-lowdown-funk-ep/2331741-02/
View more music
Danceproject.info - a non-profit product, and it is thanks to the advertising we support and develop our services.

We would be grateful if you disable AdBlock on our website.

Thank you.