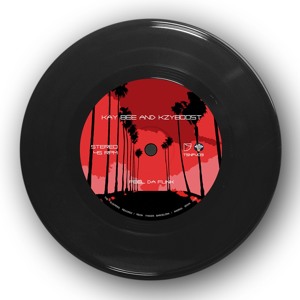 Kay Bee & KzyBoost – Feel Da Funk (Snippet)
0
about music
Limited Edition 7″ Vinyl, Pre-Order starts 7th May at www.thesleepersrecordz.com
Third collaboration with Neon Finger Records, TSNFV03.
From a formidable connection between Pasadena (Los Angeles, USA) and Osaka (Japan), KAY BEE & KZYBOOST bring us the Funk in a new wonderfull way.
Talkbox, Voices, Synths, Leads, Guitars & strong groovy Bass lines under the big influence of Modern Funk & P-Funk.
With exceptional collaboration of Dr. Evo on the Bass for the song "Feel Da Funk", this 7″ Vinyl is a trip into the Real Funk galaxy.
—||| CREDITS |||—
Composed, Arranged, Produced & Written by Kay Bee & KzyBoost
Talkbox, Voices & Lyrics by Kay Bee & KzyBoost
Synth Bass & Bass Guitar on song "Feel Da Funk" by Dr. Evo
Mixed by Ivan Makvel
Mastered by Alek Stark at Fundamental Audio
Artwork by Yecco
Executive Produced by Ivan Makvel & J. Pastor
Published & Released by The Sleepers RecordZ & Neon Finger Records
—||| CONTACTS |||—
THE SLEEPERS RECORDZ:
BANDCAMP: www.thesleepersrecordz.com
FB: www.facebook.com/TheSleepersRecordz
INSTAGRAM: www.instagram.com/thesleepersrecordz
TWITTER: twitter.com/SleepersRecordZ
SOUNDCLOUD: soundcloud.com/the-sleepers-recordz
WEBSITE: sleepersmusic.wix.com/sleepersrecordz
E-MAIL: sleepersmusic@gmail.com
KAY BEE:
FB: www.facebook.com/KidboogieOfficial
SOUNDCLOUD: soundcloud.com/kidboogie-mgf
INSTAGRAM: www.instagram.com/kidboogiemgf
KZYBOOST:
FB: www.facebook.com/kazuya.sakamoto.3975
SOUNDCLOUD: soundcloud.com/kazuya-sakamoto
INSTAGRAM: www.instagram.com/kzyboost/
View more music
Danceproject.info - a non-profit product, and it is thanks to the advertising we support and develop our services.

We would be grateful if you disable AdBlock on our website.

Thank you.