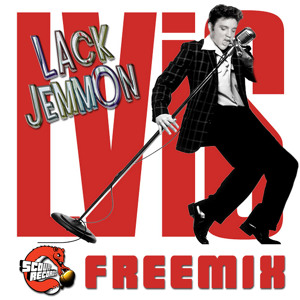 Lack Jemmon – LViS
0
about music
★ FREE DOWNLOAD ★ (WAV & MP3) @ http://bit.ly/1D0SUMs
Having left Nynfus Corporation, DJ Clairvo and Kid Panel have signed to Scour Records with their new moniker called: Lack Jemmon…
"An Elvis Freemix so hot and full of sexoring bass muscles that we struggled to even get it to leave the mirrors in the gym! Don't sweat it though, we used the old 'which way to the toilet?' trick. Hop on the good juice friends – in celebration of their official welcoming in to the Scour Records family – Lack Jemmon have created an Elvis the like of which you've never seen nor heard before! Sure, he's in a tight white jumpsuit with a dubious male camel toe, but that to one side (fnarr), he's filled the suit with robots, sharks, hammers, laser-pianos, more rhinestones than a tornado in Dolly Parton's knickerbockers aaaand..enough bossa nova swagger to satisfy the staff at the holiday park where Patrick Swayze worked in the Dirty Dancing film. Was it Pontins? NOBODY PUTS BABY ELVIS IN THE CORNER!
Thankyouverymuch!"
Lack Jemmon @
SoundCloud: http://soundcloud.com/lackjemmon
Facebook: http://www.facebook.com/lackjemmon
Twitter: http://twitter.com/LackJemmon
Scour Records
SoundCloud: http://soundcloud.com/scourrecords
Facebook: http://facebook.com/scourrecords
Twitter: http://twitter.com/scourrecords
YouTube: http://youtube.com/Scourrecords
Hearthis: http://hearthis.at/scourrecords
Promo blurb by Fat Harry: http://www.facebook.com/pages/Fat-Harry/216117141875072
This download goes to show how much fun they have makin' beats!
Big UP's, rad Scourma, aaaand..enjoy! Lack Jemmon & Scour Records 🙂 XX
View more music
Danceproject.info - a non-profit product, and it is thanks to the advertising we support and develop our services.

We would be grateful if you disable AdBlock on our website.

Thank you.