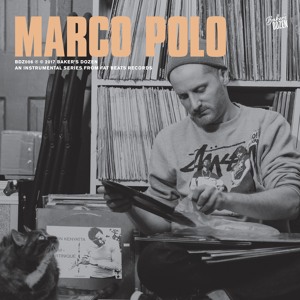 Marco Polo – "Oh Really" (Instrumental)
0
about music
Fat Beats Records is proud to present the sixth installment of Baker's Dozen, an exclusive vinyl series that shines a light on the best minds of instrumental hip-hop, ambient, and electronic music. Each installment gives one artist carte blanche to capture their signature sound.
Baker's Dozen heads back to the East Coast where veteran producer Marco Polo brings a welcomed boom bap flavor to the series. New York City is the birthplace of Fat Beats (and as many would say, hip-hop in general) and current NYC resident Marco Polo is true to form in representing our roots.
As always, every volume of BDZ features one artist and twelve tracks (with limited random copies including the Baker's Dozen bonus track on a flexidisc) and comes equipped with a 5×7" postcard insert that features a photo of the artist's workspace along with the equipment used in their music making process.
A personal narrative of how they got into beat making in the first place is featured on the back of the jacket. Visually cohesive and packaged with the utmost attention to detail, Baker's Dozen is a series that speaks up for artists whose craft renders voices superfluous, and whose instrumentals alone suffice to make a statement.
Shouts to Buckshot, KRS-One and Duck Down.
"Another nerdy thing I dig about these versions is most of them are the OG raw MPC versions before they got all mixed down and separated. My fellow producers can relate to the agonizing process of "chasing the demo sound" in the final mix…we wanted to keep it 100% rare and unreleased." – Marco Polo
View more music
Danceproject.info - a non-profit product, and it is thanks to the advertising we support and develop our services.

We would be grateful if you disable AdBlock on our website.

Thank you.