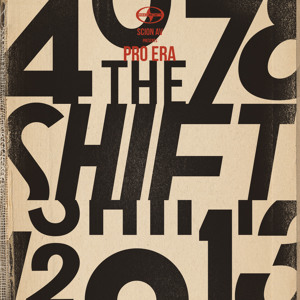 Pro Era – Hail Razor [A La $ole X Dessy Hinds X CJ Fly] Prod. By Backpack
0
about music
Scion AV Presents: The Shift, the EP will be available for streaming and as a free download via the Scion AV Soundcloud and on ScionAV.com on 5/27. Pro Era and Scion AV have also teamed up for a video due out beginning of June.
Scion AV premiere: http://www.scionav.com/2014/05/19/pro-era-hail-razor-download-a-la-sole-dessy-hinds-cj-fly/
Pro Era is the Brooklyn collective of Joey Bada$$, CJ Fly, Kirk Knight, Nyck Caution, A La Sole, Dessy Hinds, Chuck Strangers, Powers Pleasant, The 47s (Dirty Sanchez, Roka-Mouth, J.A.B and Jakk The Rhymer). The young MCs have a developed a cult-like following with fans embracing their music & lifestyle…"That OG $wank." Fans can look forward to Joey Bada$$'s debut album, 'B4.DA.$$' this Fall.
The Shift EP is their fourth as a collective and for this special release they teamed up with Scion AV for a sample free EP that both highlights their diverse style and sound while further establishing Pro Era as the future of hip hop.
Subscribe to Scion AV for more exclusive videos and tracks from your favorite artists!
YouTube: awe.sm/bFiIN
Facebook: www.facebook.com/scionav
Instagram: www.instagram.com/scionav
Twitter: www.twitter.com/scionav
www.scionav.com
View more music
Danceproject.info - a non-profit product, and it is thanks to the advertising we support and develop our services.

We would be grateful if you disable AdBlock on our website.

Thank you.