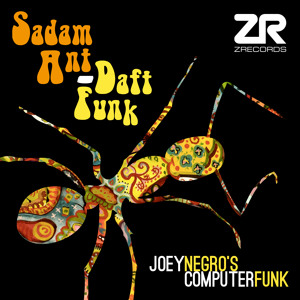 Sadam Ant – Daft Funk (Joey Negro's Computer Funk Mix)
0
about music
Available now from: http://www.zrecords.ltd.uk/new-releases
In these times where deep house seems absolutely everywhere we proudly present the complete opposite. "Daft Funk" is an unashamedly quirky, energetic peak time track that's sure to set both your trousers and dance floor alight!!
DJ Reactions:
Tom The Jedi – Booooom…party whopper alert…
DJ Meme – Haha…PERFECT !!!
J Paul Getto – Nice one!
Soulmagic – Track is MONSTER
Robert Owens – Great mix
Faze Action – Bonkers stuff
Scott Wozniak – Massive. This is getting rinsed straight away. Damn you, Joey Negro!
Matthias (Syke'n'Sugarstarr) – Hot Hot Hot!!!!!
Graeme Park – You daft funking funkers. Superb!
Russell Small – Cool name, cool track
Bill Brewster – Delasoultastic!
Dave RedSoul – Cool track, Supporting
Soul Avengerz – Nice…….
Sam Divine – LIKE IT SO MUCH 🙂
Carl Hanaghan (Hed Kandi) – Love it, will support
Maurice Tamraz – Nice one
Norbert Borchers – YES YES YES…. This track burns!!!!
DJ Mes – Solid
Casio Social Club – Ohio Players >> De La Soul >> Sadam Ant >> THIS IS JOYOUSLY FLOOR RIPPING!!!!
Mark Doyle – Genius !
Treasure Fingers – YES YES YES. AGAIN YES. Dario d'Attis – will burn my dancefloors. . . . love this hypnofunk groove
Deli-G – Dope take on a classic tune
Sarah Favouritizm – Ha brill, cant wait to smash this! :))
View more music
Danceproject.info - a non-profit product, and it is thanks to the advertising we support and develop our services.

We would be grateful if you disable AdBlock on our website.

Thank you.