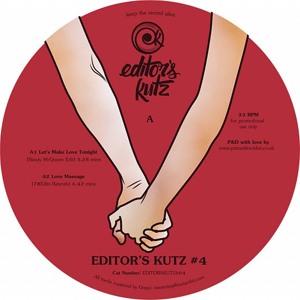 Sleazy McQueen – Let's Make Love Tonight
0
about music
This latest installment in the popular Editors Kutz re-edit series is packing some real heat, which is arguably unsurprising given the talent involved. Whiskey Disco don Sleazy McQueen steals the show with opener "Let's Make Love Tonight", a perfectly pitched chunk of sensual, horn-toting disco that should ignite dancefloors the world over this summer. 78 Edits take on "Love Massage" – a sexy head-nodder in his loopy, toe-tapping style – is almost as good, while Vinyl Addicted & Jean-Paul Gavri's sweet, delay-laden, dub disco tweak of "Can't Play Around" (here re-titled "Let's Play Around") is similarly impressive. As if that wasn't enough to impress, there's also some top drawer shuffling Balearic disco from Lillo Carillo's (the sultry "Le Viole").
View more music
Danceproject.info - a non-profit product, and it is thanks to the advertising we support and develop our services.

We would be grateful if you disable AdBlock on our website.

Thank you.