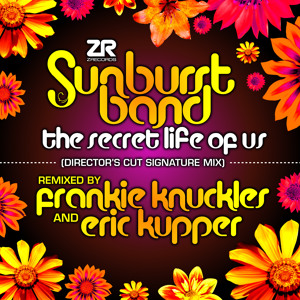 The Sunburst Band – The Secret Life of Us (Frankie Knuckles & Eric Kupper's Director's Mix)
0
about music
Available now from – http://www.zrecords.ltd.uk/new-releases
For many people the standout cut from last years Sunburst Band album was the Chic-esque title track.
Now Frankie and Eric have pumped it up and given us a peak time, sing along floor filler.
DJ Reactions:
Karizma – Dope rub
Danny Rampling – Excellent silky house Frankie Knuckles continues delivering quality remixes productions
Johnny Fiasco – Esta muey chingon!
Danny Krivit – Fantastic
Robert Owens – Great mix
Ron Carroll – Excellent
Scott Wozniak – Absolutely loving the dub on this. Pure class
Shur-i-kan – Classic sounding track – like proper house
Pookie – Another great work by Frankie and Eric
Gareth Sommerville – Fautless club music
Carl Hanaghan (Hed Kandi) – Amazing. In Love.
Casio Social Club – Knuckles & Kupper? YES!
Andy Daniel – I need to be listening to this in the sun on the beach
John Jones (Hed Kandi) – Love this, a lot
Graeme Park – Its beautiful, it's wonderful and so are you
CJ Mackintosh – Quality…Love it
Gregor Salto – Sweet
Sam Divine (Defected) – Good feelin' music! Amazing vocal!
Copyright – Classic vibe, love it
Freemasons – Really nice
Craig Stewart – Light touch paper and stand well back, breathtaking phew
Groove Assassin – Classy stuff from the Directors
Lewis Dene – At last real music in an otherwise sea of mediocrity
View more music
Danceproject.info - a non-profit product, and it is thanks to the advertising we support and develop our services.

We would be grateful if you disable AdBlock on our website.

Thank you.