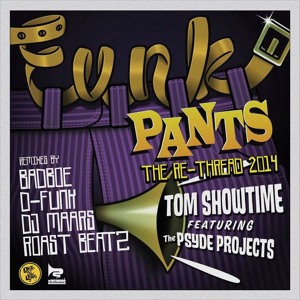 Tom Showtime feat. The Psyde Projects – Funk Pants (The 2014 Re – Thread) [BadboE Mix]
0
about music
Tom Showtime feat The Pysde Projects – Funk Pants (The 2014 Re-Thread)
Grits N Gravy // GNG016.
Out now exclusive on Junodownload –
http://www.junodownload.com/products/tom-showtime-funk-pants-the-2014-re/2597931-02/
Originally released on Groove Penguin Records in 2012 this super funky pair of pants has been re­‐sized, the stitches tightened, re­‐shaped, dry­‐cleaned and appears in shops now as The 2014 Re­‐Thread…
Heading up a fine array of remixes is Denmark's BadboE who has released music on labels such as Bombstrikes & Breakbeat Paradise. His mix takes things into a slight tuffer, ghetto funk directions. Grits N Gravy's own D­‐Funk is up next with his 'Bring back big beat' mix which tips a head nod to the big beat sound of years gone by. DJ Maars trademark hip hop & reggae blend turns things into a low slung groover & finally Uk's Roast Beats goes into funky ghetto territory with live sounding beats & swagger.
Check out the whole release here –
soundcloud.com/grits-n-gravy/sets/tom-showtime-feat-the-psyde
https://www.facebook.com/pages/BadboE/137738785556
www.facebook.com/gritsngravymusic

View more music
Danceproject.info - a non-profit product, and it is thanks to the advertising we support and develop our services.

We would be grateful if you disable AdBlock on our website.

Thank you.