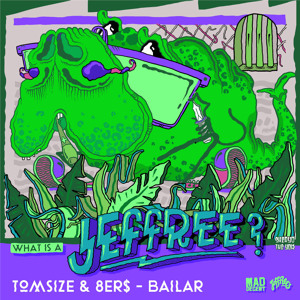 Tomsize & 8Er$ -Bailar
0
about music
Featuring 12 brand new tracks, What Is A Jeffree? drops 10/30 with a new track premiering each day leading up to a free download of the full compilation!
Our first track reveal off of What Is A Jeffree? is an eerie, trap banger brought to you by Tomsize & 8Er$. Parisian producer Tomsize, who has been dubbed a pioneer of futuristic trap in France, has combined forces with fellow Unborn Records alumni 8er$ to deliver the Spanish-flared "Bailar". Harnessing each other's genre expertise, "Bailar" does anything but take up camp with the norm. With it's dark, foreboding atmosphere, listeners will have nothing to say other than 'muchas gracias' and adios as you dive into the melodic depths of "Bailar".
What Is A Jeffree? Tracklist
1. Tomsize & 8Er$ -Bailar
2.Ape Drums – Overload (feat. Gappy Ranks)
3.?????????? (10/16)
4.????????????? (10/17)
5.???????????????(10/20)
6.????????????????(10/21)
7.???????????????(10/22)
8.?????????????(10/23)
9.???????????(10/24)
10.???????(10/27)
11.????(10/28)
12.?(10/29)
Follow Tomsize
Facebook: http://www.facebook.com/tomsize
Twitter: @tomsize_
Soundcloud: @tomsize
Follow 8er$
Facebook: http://www.facebook.com/8ersofficial
Twitter: @8er2
Soundcloud: @8ers
Follow Mad Decent
Facebook: www.facebook.com/maddecent
Twitter: www.twitter.com/maddecent
Website: www.http://maddecent.com/
View more music
Danceproject.info - a non-profit product, and it is thanks to the advertising we support and develop our services.

We would be grateful if you disable AdBlock on our website.

Thank you.