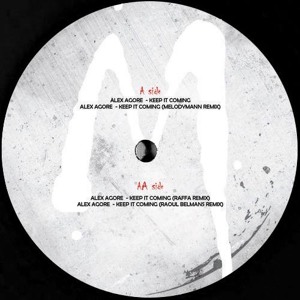 Alex Agore – Keep It Coming
0
about music
to listen to the remixes go here

Whoever says small labels are getting damaged by Record Store Day haven't heard what the Belgian Deep & Soulful house label Melodymathics unleashes on April 18th.
Some of the country's finest, from the early and present House scene, are united on this 12″ release. Raoul Belmans also know as Dj Raoul (Swirl People/Food Club/Silo), Raffa formerly know from soul and future jazz band 'Sweet Coffee' and labelowner Melodymann bring three feel good house cuts based around a self explanatory vocal motif 'Keep It Coming!' by one of Melodymathics residents 'Alex Agore'.
It's this sort of euphoric House Music you can drop anytime in your set and just stand back watching a sea of arms raised in response.
View more music