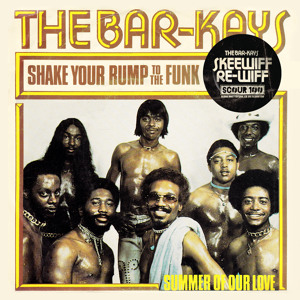 Bar Kays – Shake Your Rump To The Funk – Skeewiff Re-Wiff
0
about music
Exclusive download link via Spinforth's Celebratory Centenary Scour #100, over at: http://ghettofunk.co.uk/scour100
An all time favourite funk groove by the Bar Kays, re-wiffed to celebrate the Celebratory Centenary Edition of the infamous Spinforth Scour. Big thanks to @spinforth, @fat-harry and crew for the love, support and chuckles over the years. & gawd bless the scour and all who sail in her!
Promo Blurb by Fat Harry:
"When the Generals of funk, The Bar Kays, tell us to 'Shake our Rumps to the Funk', we happily and gaily start swinging our bottoms around like we're nasty!. When Gunnery Staff Sergeant Skeewiff leans over the Bar Kays' shoulder, rips the needle across the record and barks THAT'S NOT RUMP SHAKING YOU MAGGOTS! DROP AND GIVE ME TWENTY! We drop like stones and crack out twenty of the finest. Gunnery Staff Sergeant Skeewiff is mean and swears and shouts a lot, he makes us march and run and do push ups and he teaches us rude songs and makes us do more push ups, he even promised to 'unscrew our heads and shizzle down our necks!' He's mean but he's turning us into stone cold funk killing machines! Tennnn HUT!"
Skeewiff
SoundCloud:
soundcloud.com/skeewiff
" target="_blank">http://
soundcloud.com/skeewiff
Facebook:
http://www.facebook.com/skeewiff_music
Twitter:
http://twitter.com/skeewiff
Website:
http://skeewiff.com
Scour Archives: http://ghettofunk.co.uk/category/scour
Promo blurb by Fat Harry:
http://www.facebook.com/pages/Fat-Harry/216117141875072
View more music