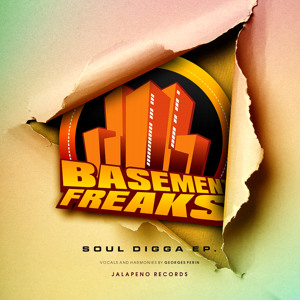 Basement Freaks – Gotta Make Me A Gun
0
about music
Basement Freaks return to Jalapeno with a 4 track EP of killer funk, heavy, heavy beats and deep blues vocals. Always one of the serious players in the Funk / Breaks scene – his music has always been able to transcend genres and gets dropped in clubs and parties round the world.
On Work It Out the Freaks teams up with MC Rayna for a guitar heavy hip hop excursion. A Blues Thang features that thing most often missed out by modern electronic producers – a harmonica solo – the proper way to do it….
Gotta Make Me A Gun is another blues tinged party bomb featuring the vocals of long time Freaks collaborator Georges Perin. The EP finishes up with the soulful flair of That Little Thing You Do.
Basement Freaks offer their Gold Digga edit for free download to celebrate the upcoming 12″ .
Get you hands on http://soundcloud.com/basement-freaks/gold-digga here
All Tracks writen by Basement Freaks
Produced by George Fotiadis
Mastered by Bombastic Jam Mastering
Vocals/Talkbox & Harmonica by Georges Perin
Additional Vocals on A1 by Mc Ryana
Guitars & Bass by George Fotiadis
Lyrics by Panayiotis Skraparlis
View more music