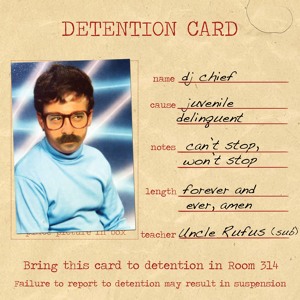 DJ CHiEF – Bernie's Revenge
0
about music
DJ CHiEF's shenanigans have landed him in a lot of trouble and this time, Principal Sanders is really mad. In fact, the offenses were so egregious that DJ CHiEF's substitute teacher, his own Uncle Rufus, recommended that DJ CHiEF remain in detention "forever and ever, amen."
But 1nce again, the joke is on them…
A message from DJ CHiEF:
Peace and love to the world. It's true that I was misbehaving and now I'm in detention, but all I can say is "vive la resistance" and I'll be out one way or another – quick.
In the meantime, I hope you enjoy these funky tidbits and soulful snickets. I know I did.
Massive thanks to the Hip-Hoppers from around the world that participated in the album intro, including:
DJ Joky Swing (Colombia) @bboyjksw
Bboy Bootuz – Predatorz Crew (Russia) @bootuz_predatorz
Miniboj – The Legits (Slovakia)
Bboy Hella – The Lab Performing Arts (Australia) @mnsteez
Bboy Harrien – Dream Runnerz (Taiwan)
DJ AZUHL – Beat Bangaz (South Africa) @dj-azuhl
Bboy Hans – FLooridianz (USA)
DJ Soulrane (USA) @soulrane
Bgirl Ayumi – Body Carnival (Japan)
Bboy Crazy C – BackYard Funk Crew (USA)
Fight the power!!
View more music