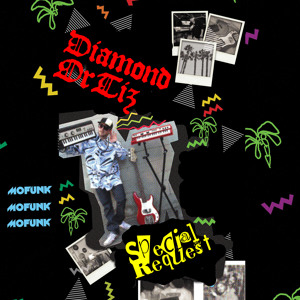 Diamond Ortiz – Bout It Bout It
0
about music
Mofunk Records Presents:
Diamond Ortiz "Special Request". Aviailable now on limited edition cassette.
Purchase/Download available at https://www.MofunkRecords.com
"Diamond Ortiz is back with a fresh selection of original material, shining light on his masterful production, playing of instruments, singing and signature talkbox stylings. Drenched in G-funk synth bass and feel-good boogie vibes, sunshine synths and clean guitars, icy vocals and soulful talkboxes spitting game in harmony, Diamond is carrying the torch of his OG funk mentors into the future. Honed over many years on stages and in studios across the Bay Area and LA since youth, Diamond's grassroots DIY recordings are filled with flavor and feel, and the culture of the scenes he's grown up around.
From super sized slappers like "Poster Girl" and "Playeristic Tendencies", to the sweet saccharine gangster boogie of "1-900" and "Slow Mo", and the love filled duet "Next Level Lovin'" with label mate Moniquea, Diamond's deep understanding, versatility and command of the genre as a whole are clear.
Diamond Ortiz makes his mission clear on "Special Request" - spreading love and joy thru old school music and bringing people together through the funk."
View more music