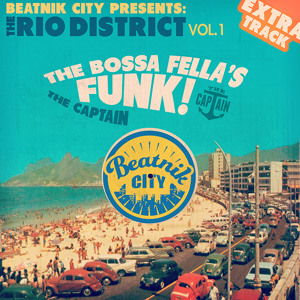 The Captain – The Bossa Fella's Funk
0
about music
If you download this release please leave a Comment, Repost ↻ it or Like ❤ it! —— thanks!
Hey all you Dance Kids!
While you are still twisting hard to the seven tracks of the freshly released Rio District vol.1 (Don't Worry, we can't stop listening either!), we at Beatnik City Records HQ have some more great news for you: We've just found the 8th missing track of the release!
Yeah that's right Senhor! It's called The Bossa Fella's Funk and it comes courtesy of Italian funky master The Captain.
Please don't be fooled by the track position: It's number 8 on the track list, but easily number 1 on that dance floor and it's what Brazilians like to call 'Super Legal'!
Can you imagine the 'Just Brothers' going mad bossa style with 8 'Sliced Tomatoes'?
Can you juggle 8 caipirinhas while deejaying?
Can you kill a man with your funky strut in 8 paces?
If you answered yes then 8 is your lucky number, and this 8th song is going to be your very secret weapon to unleash at your summer parties, winter parties, and even your super sexy spring parties baby! (Don't use if for Fall, it'll tear your trousers off)
It's 100% Kid-Tested, Mother-lover approved floor filler.
Ahoy and all aboard me hearties!
Follow Beatnik City:
www.facebook.com/BeatnikCity
twitter.com/BeatnikCity

Follow The Captain:
www.facebook.com/thecaptain.it
twitter.com/TheCaptainMusik
www.thecaptain.it/
View more music