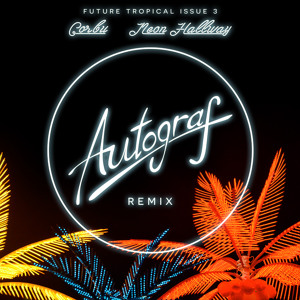 Corbu – Neon Hallway (Autograf Remix)
0
about music
FUTURE TROPICAL. ISSUE 3 VIDEO Autograf Live →
http://youtu.be/TqN_-e63nck
" title="
http://youtu.be/TqN_-e63nck
" target="_blank">
http://youtu.be/TqN_-e63nck
Artwork + Press Release →
http://bit.ly/1wdVKz4
#LeaveYourAutograf With a new track seemingly out every week this fall, the Chicago trio has certainly left their Autograf all over the musical landscape with nine consecutive Hype Machine Top 10s including three #1 hits and support from the likes of Kygo, Thomas Jack and Odesza. 'Neon Hallway,' a remix for Brooklyn based indie outfit Corbu, is Autograf's fifth song release in 2 months. It's also the 3rd installment to their ongoing "Future Tropical" series of remixes and originals. Issue 1 and 2 were remixes of Lorde's 'Team' which quickly amassed over 1 million plays on Soundcloud, and The Griswolds' 'Beware The Dog' which hit #3 on Hype Machine. The "Future Tropical" series is inspired by instrumentation Autograf has been incorporating into their live show such as marimba, and more recently djembe. They've previewed the live performance in select cities: New York, Los Angeles and Chicago. VIDEO (Autograf Live):
http://youtu.be/TqN_-e63nck
" title="
http://youtu.be/TqN_-e63nck
" target="_blank">
http://youtu.be/TqN_-e63nck
According to the group, "the live show will always be evolving and changing, as we all do on this journey in life." There's talk the group is building an electric djembe and steel drum to add to the performance. Autograf is also almost finished with building a full service studio in the backyard. "We'd like our live performances to go hand in hand with our music production, so we built a creative space with that in mind. It'll be our playground to experiment." Beatport Link:
http://btprt.dj/1FJ79IY
LIKE →
https://facebook.com/AutografOfficial
FOLLOW →
https://twitter.com/AutografMusic
LISTEN →
https://soundcloud.com/autografmusic
SEE →
http://instagram.com/autografmusic
JOIN →
[email protected]
View more music