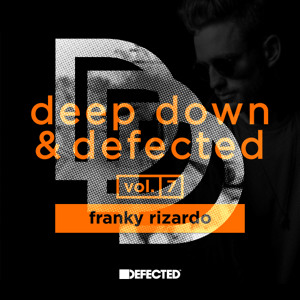 Defected Records – Sandy Rivera 'I Can't Stop (Franky Rizardo Remix)'
0
about music
Deep Down & Defected Volume 7 Franky Rizardo: defct.de/dddv7sy
Deep Down & Defected is the series that explores the deeper house sounds of dancefloors around the world. Volume 7 is helmed by Dutch master craftsman Franky Rizardo, and this latest edition features cuts from the likes of Ninetoes, Deetron, Riva Starr and Audiojack, as well as a number of exclusive re-edits and remixes from Rizardo himself.
Over the last few years, Franky Rizardo has taken a hugely refreshing approach to house music which has been paying dividends in a big way. Having established himself as one of the biggest draws in Holland's house music circuit, he's now rapidly expanding his horizons across the world. Releases on OFF, Defected and Spinnin' demonstrate an increasingly strong production career, while his Flow radio show and events are fast becoming a major part of the house music landscape across the world.
"With the Deep Down & Defected album I wanted to make my own edits and chose tracks and remixes for this album that are as diverse as possible" says Rizardo of the selection process. "I wanted to showcase all the genres within house music that are possible." Included are a number of brand new cuts from Rizardo, including 'Troubleman' and 'Enzyme', as well as a previously unreleased record 'Olympus', all of which demonstrate his innate ability to switch pace from one track to the next. Also included are three brand new edits made especially for the release, in which Rizardo takes on tracks from Sandy Rivera, Pete Tong and Copyright with predictably explosive results.
View more music