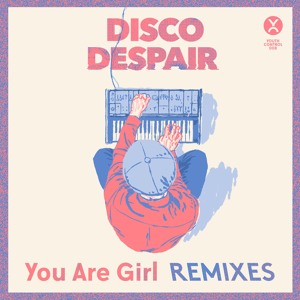 Disco Despair – I Guess You Know (feat. Therese) (KASPERG Remix)
1
about music
Follow KASPERG https://facebook.com/iplaykasper
Follow Disco Despair https://facebook.com/discodespair
Disco Despair's most recent 'You Are Girl' EP via Youth Control has received high acclaim from the likes of Your EDM, EDM Sauce, Earmilk, Acid Stag, Salacious Sound, TILT Mag, Always Doing Damage, Music Is My Life, and many more. The titular single reached the Top 10 on the Popular Charts of Hype Machine, and was hailed by numerous media outlets as a "masterful blend of nu-disco".
Now, Disco Despair is set to drop a 'You Are Girl Remixes' EP on May 13th with Youth Control. The package includes 3 fresh remixes from respected producers Birdee, KASPERG, as well as Youth Control's own Smok.
Birdee's remix is a crunchy, crisp, hip take on "You Are Girl (ft. Jeremy David)" reminiscent of legendary contemporary disco producers like Daft Punk, while Smok's remix has a more classic, bouncy rhythm underneath Jeremy David's gorgeous vocals. To top it off, KASPERG's remix of "I Guess You Know (ft. Therese)" provides a mystic deep house atmosphere for listeners to swim in. This remix EP is truly the full package for any lovers of House music. Play any one of these remixes and the groove gets grooving quickly.
View more music