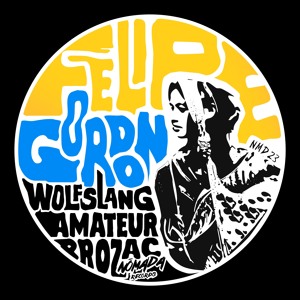 Felipe Gordon – Ain't Groovin', Not Moovin' (Original Mix)
0
about music
Out Now exclusively on Traxsource:
www.traxsource.com/title/854749/wo…-amateur-prozac
Hace un año tuvimos el placer de presentar "Sample Collosus"; álbum debut del prolífico productor colombiano Felipe Gordon, quien en el transcurso de este año ha logrado editar su música con reconocidos sellos como Toy Tonics, Quintessentials, Secret Reels, Sampling As An Art y Street Tracks.
Sin dejar a un lado ese sonido Lofi House Jazz que lo identifica, Felipe Gordon regresa a Nómada Records con "Wolf Slang Amateur Prozac Ep"; Una combinación de diferentes estados de la mente donde el productor colombiano logra madurar y perfeccionar su técnica de producción a través de precisos sampleos, baterías en síncopa, arreglos vocales propios y un riguroso y detallado trabajo de composición través de la síntesis. Cinco tracks originales y un remix por parte del nuevo talento del Lo-Fi House francés G2S hacen de "Wolf Slang Amateur Prozac" el Ep perfecto para la pista de baile.
______________________________
A year ago we were pleased to present 'Sample Colossus'; debut album from the prolific Colombian producer Felipe Gordon, who have now managed to release his music through well known labels such as Toy Tonics, Quintessentials, Secret Reels, Sampling As An Art and Street Tracks.
Without sidelining his signature Lofi Jazz House, Felipe Gordon comes back with to Nomada Records with :Wolf Slang Amateur Prozac Ep'; a combination of different states of mind where he accomplish to mature his sound and improves his production techniques trhough meticulous sampling, syncopated drums, self vocal arrangements and a detailed composed work using synthesis. Five original tracks and a remix from a new french talent in the Lo-Fi House scene, G2S, make "Wolf Slang Amateur Prozac" the perfect EP for the dance floor.
All tracks produced and mixed by Felipe Gordon. All tracks mastered by Lucien Magual.
View more music