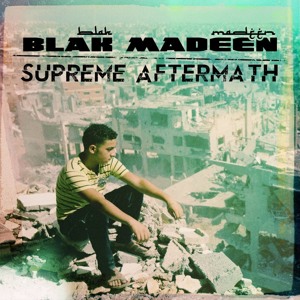 Blak Madeen – Guerrilla Soldiers (feat. Planet Asia)[prod. by The Arcitype]
1
about music
HipHopDX Premiere: http://bit.ly/1R9pBmx
Boston duo Blak Madeen proudly put their fists in the air with "Guerilla Soldiers," a gritty new single off their upcoming album, 'Supreme Aftermath,' that features West Coast bully-rap icon Planet Asia.
As soon as the Arcitype's bruising beat hits your speakers, it's clear that the track couldn't have had a better guest than the Cali Agent, Nautical Pirate. His tough-guy raps like "Dump you on your face like a cigarette" provide a snarling dose of bravado that serves as a balancing act. Whereas PA sucker-punches the competition, Blak Madeen's Al-J and Yusuf Abdul-Mateen stick to dizzying rhymes and slick wordplay ("off the wall like asbestos").
'Supreme Aftermath' drops January 15th via Rhyme Dawah. Until then, you can stream both "Guerrilla Soldiers," along with the project's inaugural leak, "Long Way to Go," featuring Gift of Gab of Blackalicious fame.
'Supreme Aftermath' (Press Release): http://bit.ly/1MrvNyj
Tracklist:
01. Supreme Aftermath (prod. by Skin Ced)
02. Mic Divine (feat. Blacastan) [prod. by Teddy Roxpin]
03. Main Attraction (prod. by Sicknature)
04. Long Way To Go (feat. Gift of Gab and Cyrus Deshield) [prod. by The Arcitype]
05. Devil's Shadow (feat. Divine Styler and Rite Hook) [prod. by Skin Ced]
06. Guerrilla Soldiers (feat. Planet Asia) [prod. by The Arcitype]
07. Energetic Darts (prod. by Skin Ced)
08. The Procedure (feat. G. Dot & Born) [prod. by Divine Styler]
09. Blood Of Our Brothers (prod. by Skin Ced)
10. Words In Red (feat. Shabazz the Disciple) [prod. by Skin Ced]
11. The Worst Part (feat. Red Baren) [prod. by Skin Ced]
12. No Surrender (prod. by Skin Ced)
13. Experience the Struggle (prod. by Skin Ced)
14. Where's Justice? (feat. Krumbsnatcha) [prod. by Skin Ced]
*All Cuts by DJ Slipwax
Blak Madeen Online:
• Instagram: https://www.instagram.com/blakmadeen
• Facebook: https://www.facebook.com/blakmadeen
Twitter:
• Blak Madeen: https://twitter.com/blak_madeen
• Planet Asia: https://twitter.com/planetasia
• The Arcitype: https://twitter.com/TheArcitype
View more music