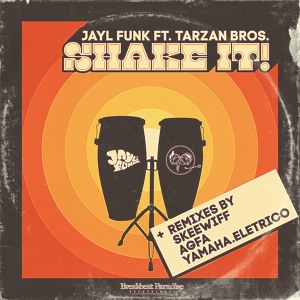 Jayl Funk Feat Tarzan Bros – Shake It (Skeewiff Remix)
1
about music
Jayl Funk. Feat. Tarzan Bros – Shake it (Skeewiff Remix)
Breakbeat Paradise Recordings is thrilled to welcome home one of pioneer producers who helped shape the label since the very beginning. German-based nu funk producer Jayl Funk has team up with funk trio/live act from the UK called Tarzan Bros and together they have created a true funk anthem with original vocals and grooves that sounds like it was done back in the glory days of soul and funk. And the goodness doesn't stop here, because on the remix duties we have some of the very best funk producers from around the world to do their take on these original samples. All the way from the US we got the legendary soldiers of nu funk: All Good Funk Alliance, and from the UK a specialist in breaks and funk Mr. Skeewiff. Finally Yamaha (The Strike Boys, Wall of Sound) and Eletrico (Trio Eletrico, Stereo Deluxe Records) delivers the final remix for this EP.
Most of the people involved on this EP need no introduction as they are already well-established names in the scene but we are very excited to be introducing the Tarzan Bros crew, who originates from Greece but now lives in the UK and delivers original vocals, funky guitar riffs as well as Sax on these tunes.
There is not denying the funky grooves on this record that seamlessly joins in live jazzy saxophones with beats and breaks from the nu funk master Jayl Funk.
Jayl Funk has gone and done it again and cooked up another wonderful funk tune that we are very happy to be releasing as it takes us back to how it all got started here on BBP with his first release dating back to 2008.
At BBP we are very please to finally release another Jayl Funk EP and once again represent our funk roots and party fucking jams for early warm-up sets as well as peak-time bangers… We are here to keep the funk alive…
Artwork by
chrispop
View more music