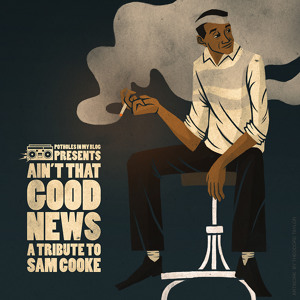 King I Divine – Dream Square
0
about music
Potholes Presents: Ain't That Good News: A Tribute to Sam Cooke [Instrumental Compilation]

http://potholesmusic.bandcamp.com/releases
Back in 1931 in Clarksdale, Miss., one of the most influential soul/R&B artists was born. And had he not been shot and killed some 33 years later, Sam Cooke would be celebrating his 72nd birthday today, Jan. 22. The smoky voiced singer-songwriter paved the way for everyone from Otis Redding to Al Green to Aretha Franklin, all of whom cited Cooke as a major inspiration for their sound and style.
To honor the life and music of the King of Soul, we reached out to some of our favorite producers to pay homage to his legacy on our latest instrumental compilation. Ain't That Good News: A Tribute to Sam Cooke partially shares the name of Cooke's final studio album, which houses his most powerful and important song of all, "A Change Is Gonna Come". I can personally remember that track hitting me like a ton—nay, 10 tons—of bricks when I first heard it as a teenager. While I could never understand the pain and tragedy he experienced, Cooke's longing vocals and resonating words struck me to the core.
We've presented a slew of instrumental compilations in the past, including the autumnal Robot Soup last October, but Ain't That Good News is our most poignant to date. It features the likes of Scoop DeVille and Two Fresh reinterpreting prisoner anthem "Chain Gang" while Phil A and Poptartpete deliver beautifully constructed pieces derived from interview clips. Elsewhere, ILLINGSWORTH and IMAKEMADBEATS provide piano-laced bursts of caffeine and Swarvy takes "Mean Old World" to another dimension.
View more music