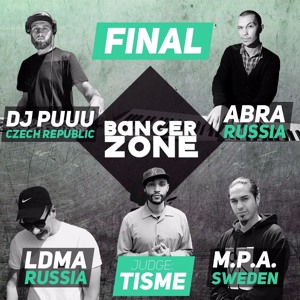 LDMA – Real Quick [Banger Zone][Final][2016]
1
about music
After three months of intense struggle, we are ready to announce the winner of our contests!
The winner of the Summer Banger Zone 2016 – LDMA!
That such was the decision Tisme:
1 Place – LDMA
2 Place – AbrA
3 Place – Puuu
4 Place – M.P.A.
Congratulations to the winner with a victory! And also thank all the finalists, which also passed a very difficult path and reached the final!
Check it and Enjoy!
FOLLOW US HERE
● Web-site – banger-zone.com
● SoundCloud – @bangerzone
● Facebook – facebook.com/bzcontest
● Vk – vk.com/bangerzone
—————————————-­­—————————————­-­———
OUR Partners
● Danceproject – danceproject.info
● Beatmaker.TV – beatmaker.tv
● ProDanceTV – fb.com/ProDanceTV
● UDance – www.udance.com.ua
● Beatmakers with attitude – fb.com/bwarecords
● UaBeatBox – vk.com/uabeatbox
● I Love This Dance – fb.com/ilovethisdance
View more music