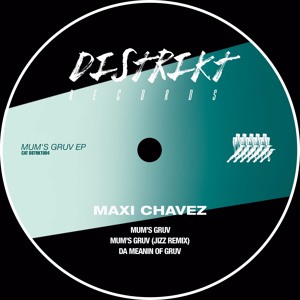 Maxi Chavez – Mum's Gruv (Jizz Remix)
0
about music
Ep Title: Mum's Gruv
Artist: Maxi Chavez + including a track with JIZZ
Label: Distrikt Records
Cat: DSTRKT004
OUT SOON!!!
Distrikt Records based in Milan, was founded in early 2016 with the great passion for music and the idea of creating a new originality, in the basement of the music Underground.
Our goal is a new sound quality, starting from micro house and techno since arriving in rhythmic old school Dub & Minimal-Tech.
Label Digital::Vinyl
based in Italy by Larson and Dino Saints
Contact us: [email protected]
www.facebook.com/distriktrecords/timeline
Support by:
Richie Hawtin, Marco Carola, DJ Steve Lawler, Joseph Capriati, Stacey Pullen (official page), Marcelo Cura, Gaga, D-FORMATION, Kolombo – Official Fan page, Chris Liebing, Ilario Alicante, Sam Paganini & COLLECTIVE MACHINE
View more music