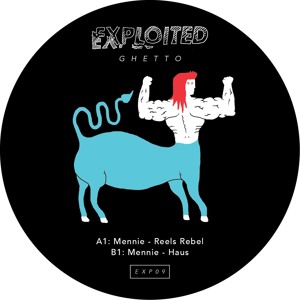 Mennie – Reels Rebel | Exploited Ghetto
0
about music
Early support by Matthias Tanzmann, Mathias Kaden, Dusky, Audiojack, Alex Neri, Mark Farina, Huxley, GoldFFinch, Laurent Garnier, Nic Fanciulli, Lee Foss, Russoul, Claude Von Stroke, Tensnake, Magda, DJ T, Booka Shade, Adana Twins, Luna City Express, Steve Lawler, Riva Starr, Sidney Charles, Kiki, Flashmob, Christian Martin, Martin Eyerer, Sasha, And.ID, The Mekanism, David Jach, Whitesquare, Hollis P Monroe, Inland Knights, Larse…
Happy 2016 everyone. Here is something fresh for the weekend.
Italian producer Mennie is back on Exploited Ghetto. Lately, he remixed Scuba alongside Bambook on Circus Recordings as well as DJ W!ld on Flashmob LTD.
His first Exploited Ghetto release 'Phoenix' from 2015 was featured in Matthias Tanzmann's Essential Mix on BBC Radio 1 and his music has been supported by DJs such as Loco Dice, Heidi, Koelsch, Groove Armada to mention a few.
His 'Reels Rebel' EP is a strong mix of classic house roots and organic sound melted with some old samples.
Artist: Mennie
Release: Reels Rebel
Label: Exploited Ghetto
Published by: Exploited Ghetto Music Publishing
LC: 48629
Cat: EXP09
Releasedate Beatport: 01.2.16
Releasedate I-Tunes: 15.2.16
First Feedback:
Mathias Kaden: Good Grooves.
Audiojack: Digging Reels Rebel! Ibiza summer vibes.
Dusky: Reels!
GoldFFinch: Feeling Reels Rebel.
Laurent Garnier: 2 very cool house tracks. Will play.
Huxley: Another killer from Mennie.
Christian Martin: Classy as fuck. Love both tracks.
Kaiserdisco: Reels Rebel is cool. Support.
Hector Moralez: Dope. Full support. Love this release!
Arthur Baker: Both nice. Feelin Rebels Energy.
Tensnake: Reels Rebel is nice.
Mark Farina: Nice cuts.
Luna City Express: Both tracks are very cool. Will def play.
Russoul: Reels Rebel is very funky. I like it!! I like Haus as well!
David Jach: Great EP! Full support.
Inland Knights: Cool grooves. Liking both tracks.
Adana Twins: Big fan of Mennie. Support.
The Mekanism: Cool EP.
Bag Raiders: Dope dope dope. Full support.
Whitesquare: Loving this so much! Such a warm vibe on it.
Flashmob: Will play… this is that shit I wanna play!!!!!! C
Martin Eyerer: Nice & Deep!
Larse: Like it very mucho.
Justin Jay: Ooo yes! Will play fshooo. Playing lots of Mennie these days.
Sasha: Sleazy.
Tom Flynn: Reels Rebel is rude.
DMC World: Powergroove!
Kiki: Reels Rebel gots da phunk.
Dale Howard: Reels Rebel is cool.
Hollis P Monroe: Nice ass-shakin' tunes
Mat Joe: Pure dopeness.
And.ID: Killer
Digitaria: Very Nice
Sidney Charles: Reels Rebel is dope!
James Curd: Reels Rebel is cool!
Paolo Martini: Bomb!
Smash TV: Reels Rebel is killer.
Jey Kurmis: Reels Rebel is the favourite but both tracks are great.
Jonny Cruz: Love Reels Rebel
Gabriel Druzzi/The Rapture: Tightness.
Hackman: Thanks!
Arthur Baker: Oldschool Flavour.
Click Click: Dooope release. Full support.
Joyce Muniz: Really nice tunes.
Josh Butler: Love this!
ZDS: Another great EP from Mennie.
Mia Dora: Nice!
View more music