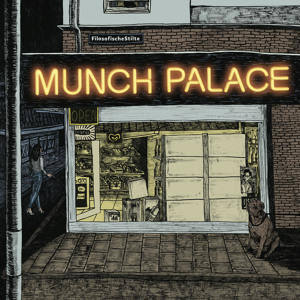 FilosofischeStilte – Lost (Sam A La Bamalot Remix)
1
about music
@FilosofischeStilte
@Bamalot
@Lowridersrecordings
FilosofischeStilte aka Luuk Graham was given the nickname of the Philosopher by his mom and dad. Also being the quiet type, it didn't take him long to find the perfect artist name.
The 21-year-old producer, from the city behind the Dunes, returns this Monday with "Munch Palace" Vol. 2. This second installment contains six hard hitting electronic tracks and is forthcoming on Lowriders Recordings.
Fellow Dutch producer Sam A La Bamalot found the perfect balance between vibes and thumps his remix for of the track "Lost". During the first minute you seem to very gently ease into this soulful version, but it isn't long until that haunting bass line catches up and smashes your eardrums to bits.
We're pleased to exclusively premiere Sam's remix of Lost and urge you to pre-order Munch Palace Vol. 2 EP. If you enjoy the music, please be so kind to hit that REPOST button or leave a nice comment. In case you'd like to read a bit more about FilosofischeStilte, please peep this short interview on our site too.
Read more: http://www.moovmnt.com/2015/06/03/filosofischestilte-munch-palace-vol-2
View more music