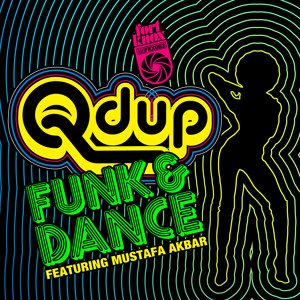 Qdup – Funk & Dance Featuring Mustafa Akbar (Original Mix)
0
about music
Like the track? Please click the Repost ↻ button!!!
CATALOG #: FKX082 ARTIST: Qdup
RELEASE: Funk and Dance LABEL: Fort Knox Recordings RELEASE DATE:
Beatport: 6/9/15 Worldwide: 6/23/15
Washington, DC's funky music ambassador Qdup returns to Fort Knox Recordings after his 2014 release, the Lone Star EP. The Warp 9 remix of "Electro Funk Boogie feat Bavu Blakes" was Mixmag's October 2014 "Breaks Tune of the Month". This time Qdup brings a heater of a single featuring the vocal styling's of Mustafa Akbar. The funk is strong with this one and to make it even stronger, Qdup has enlisted a few of his favorite producers from different ends of the globe to remix this jam and get the dance floor bouncing.
Mustafa Akbar who is well known from his work with Nappy Riddem, and collaborations with Fort Knox Five, Thunderball & Basement Freaks lays down some funky vocals on "Funk & Dance". Mustafa's vocals compliment the heavy funk banger vibe on Qdup's original mix. Auckland, NZ's keytar wielding, glitch hop funk master K+Lab infused his remix with his signature edgy bass, synth chords and slinky lead solos. Rounding off the single with some nice variety is Whistler, BC's own retro après ski party gurus SkiiTour bringing their fun, energetic style to flip the track on it's head into a bass driven Nu-Disco direction. Try not to shake your butt to any of these tunes. We dare you!
Qdup has done it again here keeping the funk alive in dance music. This one has you covered for all of your funk breaks, funky glitch hop and nu-disco needs. The Funk & Dance Single is set up to be DJ friendly with Instrumental mixes on all versions and ready to wreck dance floors worldwide.
===========================================
Keep up with Qdup online-
View more music