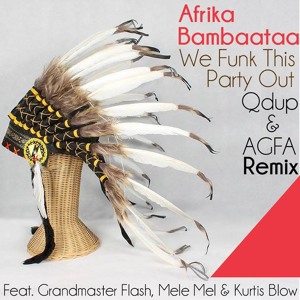 Qdup – We Funk This Party Out Feat. Grandmaster Flash, Mele Mel & Kurtis Blow (Qdup & AGFA Remix)
0
about music
Afrika Bambaataa We Funk This Party Out Feat. Grandmaster Flash, Mele Mel & Kurtis Blow (Qdup & AGFA Remix)
Simply like my Facebook here to download the tune-
http://statictab.com/ipry5v9
PM me if you don't have Facebook for a link.
Like the track? Please click the Repost ↻ button and spread the funk like fire!
Qdup & AGFA team up to remix some of hip hop's pioneers into a tasty slice of midtempo funk breaks. They've sliced up a who's who of original funk breaks in homage to the pioneers of hip hop & funk while adding a good bit of modern pumped up beats and bass to properly thump on todays dance floors and sound systems.
This one has been road tested through many festivals over the summer and getting early support from Fort Knox Five, DJ Slynk, The Funk Hunters among other top party rockers worldwide.
Check out All Good Funk Alliance on their soundcloud here-https://soundcloud.com/all-good-funk-alliance/
Keep up with Qdup online-
https://twitter.com/QdupMusic
https://www.facebook.com/QdupMusic
View more music