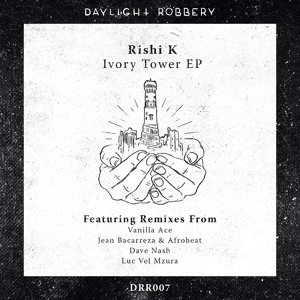 Rishi K – Ivory Tower (Vanilla Ace Remix)
0
about music
Daylight Robbery Records is excited to welcome back Rishi K. with his Ivory Tower EP. After previously remixing Physh on DRR002 Rishi K. brings his sound once again to DRR. Releases on labels such as DeepClass Records, UM Records and Seta Label to name but a few have allowed Rishi K. to maintain an eclectic sound that reaches out and touches on a huge array of influences. Ivory Tower takes the listener to a sun kissed paradise. The soft keys and subtle funk flow through to create a mellow and euphoric melody that touches on the cosmic.
Vanilla Ace has been creating a bigger stir than the turtle rap with his sound coming out on a number of imprints including Nurvous, King Street Sounds & Monotonik Records. He leads Ivory Tower slightly off the beaten track to give the tune a shift in direction towards to the late night.
Releasing between them on a number of labels including Lou Lou Records, Bunny Tiger, Future Allianz Records & Sleazy Deep, it's exciting to see Jean Bacarreza & Afrobeat team up on this remix. Together they take the sound to a darker place and pick up the pace, a track that moves with a relentless groove.
Dave Nash has been showcasing his sound on labels such as Love Not Money, Street King and Funkpony Records. A taste of acid entices before breaking down into a track intended for the darkest hours of the night
Luc Vel Mzura has spread his sound on labels such as White Widow Records and Underground Source. He takes Ivory Tower and creates a sub-kissed melodic dream that puts smiles on faces and arms in the air.
View more music