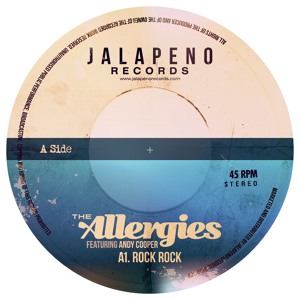 The Allergies – Rock Rock feat. Andy Cooper
0
about music
Bristol's finest -The Allergies, are back with a phenomenal new double A-side with both cuts featuring the instantly recognisable vocal skills of Andy Cooper – one of the brains behind US undergound Hip Hop legends Ugly Duckling.
Rock Rock is the most tongue twisting lyrical showcase you've heard since Blackalicious penned Alphabet Aerobics. Andy Cooper's audacious rap races through an impressive array of language without missing a beat. But his talent doesn't stop at MCing. He co-produced this track with the boys.
Golden age Hip Hop is order of the day in the second track- Blast Off. With more vocal skills from Cooper, a bouncing groove and dope turntable cuts and samples taking you back to the early 90's heyday of the genre.
Two future classic cuts in one awesome release that will be available on both 7inch and digital formats. Pre order your 7 inch now!
View more music