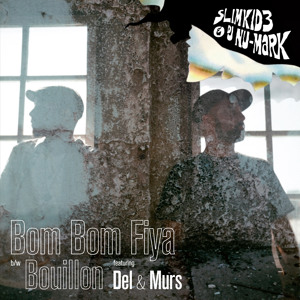 Slimkid3 & DJ Nu-Mark "Bouillon" (feat. Del & Murs)
0
about music
This is also available on 45rpm vinyl:
http://store.deliciousvinyl.com/products/slimkid3-dj-nu-mark-bom-bom-fiya-b-w-bouillon-7-inch-vinyl-single
As mega-plexes buckle under on onslaught of over-branded superheroes this summer, there's one heroic team-up that beats them all: Slimkid3 & DJ Nu-Mark! Ever since his time as a founding member of The Pharcyde, Slimkid3 has stood out for his relationship raps, both warm-hearted and cooly observant. As an innovative member Jurassic 5, DJ Nu-Mark has long propelled golden era sounds into the future. With the forthcoming Delicious Vinyl release of their album-length eponymous collaboration, the legendary Pharcyde MC and Jurassic 5 DJ/producer have created a soulful Hip-Hop soundtrack for the coming months and beyond. Check out the first single, "Bouillon" featuring Del & Murs.
View more music