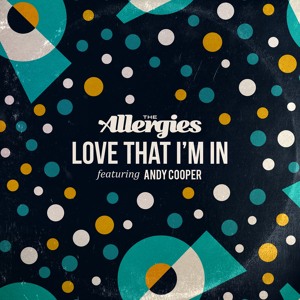 The Allergies – Love That I'm In Ft. Andy Cooper
1
about music
Bristol boogie dons – The Allergies, are back with another hot single to rip up dancefloors, and once again they've got champion MC and producer Andy Cooper (Ugly Duckling) to assist in their funky endeavours.
After combining so well previously on their debut (6 Music album of the day) record – 'As We Do Our Thing', the guys have cooked up another beast of a jam, and this time around it's an irresistibly groove laden 80's influenced disco number.  
'Love That I'm In' is a sweet cruise through grooves in the style of Indeep that expertly blends smooth rolling funk beats, sensual female vocals, and a signature tongue-twisting rap from Mr. Cooper. Its slinky melodies and gloriously catchy hook maintains the easy-on-the-ears, dance-your-pants-off effect the guys always deliver.  
The full package features both the original version and an extended mix of the track.
'Love That I'm In' will also be available on a 7" vinyl release with 'Since You've Been Gone' on the flip.
View more music