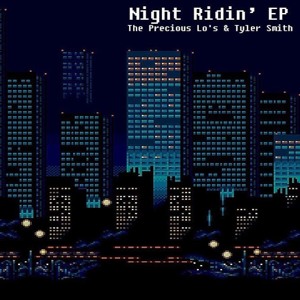 The Precious Lo's & Tyler Smith – Still The Same
1
about music
The Precious Lo's & @TylerSmithMusic – Night Ridin' EP
It was a match made in funk heaven – or in this case, Soundcloud – in what started as a mutual respect for each other's music, eventually became a full fledged collaboration.
Nik T. from TPL first approached modern-funk junkie, Tyler Smith to rework "Fly Away" for their Remix EP and the result was a bonafied G-Funk Boogie anthem.
It wasn't long before Tyler asked TPL to return the favour. One track became two, and it quickly became obvious that they had an EP in their hands.
"He kept sending us beats. Some of the dopest 80s funk-influenced stuff we've heard to date!"
Nik and Gil have been steadily working on their first official album as The Precious Lo's. However, they have over 100 releases under their Circle Research moniker, including three full length albums spanning over a decade. This EP marks the first project they didn't entirely self-produce.
"When Tyler sends a track, it already has all the parts laid out. It's a 'just add lyrics' scenario".
The result is a fresh take on the modern funk/boogie revival; complete with synthesizer solos and vocoder vibratos.
For all inquiries please contact:
Gilbert Masuda
[email protected]
View more music